I have been in a mode looking at web apps (with mobile sharing support) that will allow me to create collections of things (from the web). For example, I visit Amazon a lot looking for tech products, and often focus on specific items. As a result, I needed a means to collect what I am specifically looking for into specific collections, categories or titles. There are many applications out there to do this, BUT it dawned on me there is one app that can do this easily (with its' excellent web browser extension and mobile app support) and it is Flipboard.
Flipboard has been around awhile and is probably one of the most attractive, and most popular applications out there. It is typically used by people as a news app where the news topics are created into a magazine like interface. As a matter of fact, each news topic is created in a magazine (or category) of its' own that you can add to. The one feature that dawned on me is that you can create your own magazines (or topics or categories). For example, I was looking for hiking boots. I created a magazine called hiking boots and when I came across something of interest (using the Flipboard browser extension) I would add that interest to the hiking boots magazine (or category). I can add my own description or note and even share the magazine publicly (or just keep it private). What is really cool about this is that once you do this, the end result of your findings is presented in a really beautiful type of interface, like what you would actually see in a magazine. The biggest problem I ran into, after saving stuff to Flipboard, was finding where Flipboard was saving "my stuff" or my magazines. To get to "your stuff", look under your profile where "your stuff" or magazines are presented in a very nice interface.
In summary, with Flipboard you can:
Read stories from the best publishers – Find your favorite publishers like the New York Times, the Wall Street Journal, Reuters, the Washington Post, Axios, Vanity Fair, Rolling Stone and thousands more.
Curate your perspective – Collect stories around specific themes and add them to personal magazines
Stay informed – Keep up with the latest news with breaking news alerts and go in depth into the issues that matter to you
Dive deep into your passions – Discover personalized stories that interest you
Source: Flipboard
---
Thank You for visiting
"What's On My PC"
I encourage you to take a look at Wakelet, which is an online FREE service that is an amazing way to bookmark, organize and curate content from across the web and use it to create beautiful, informative and engaging collections. What sold me on Wakelet is that I can create collections that can be easily managed, annotated, shared, etc… I can see this service being very useful for educators. For example, when I am looking for content to post on the blog, I use Wakelet to save my findings in a collection for future reference.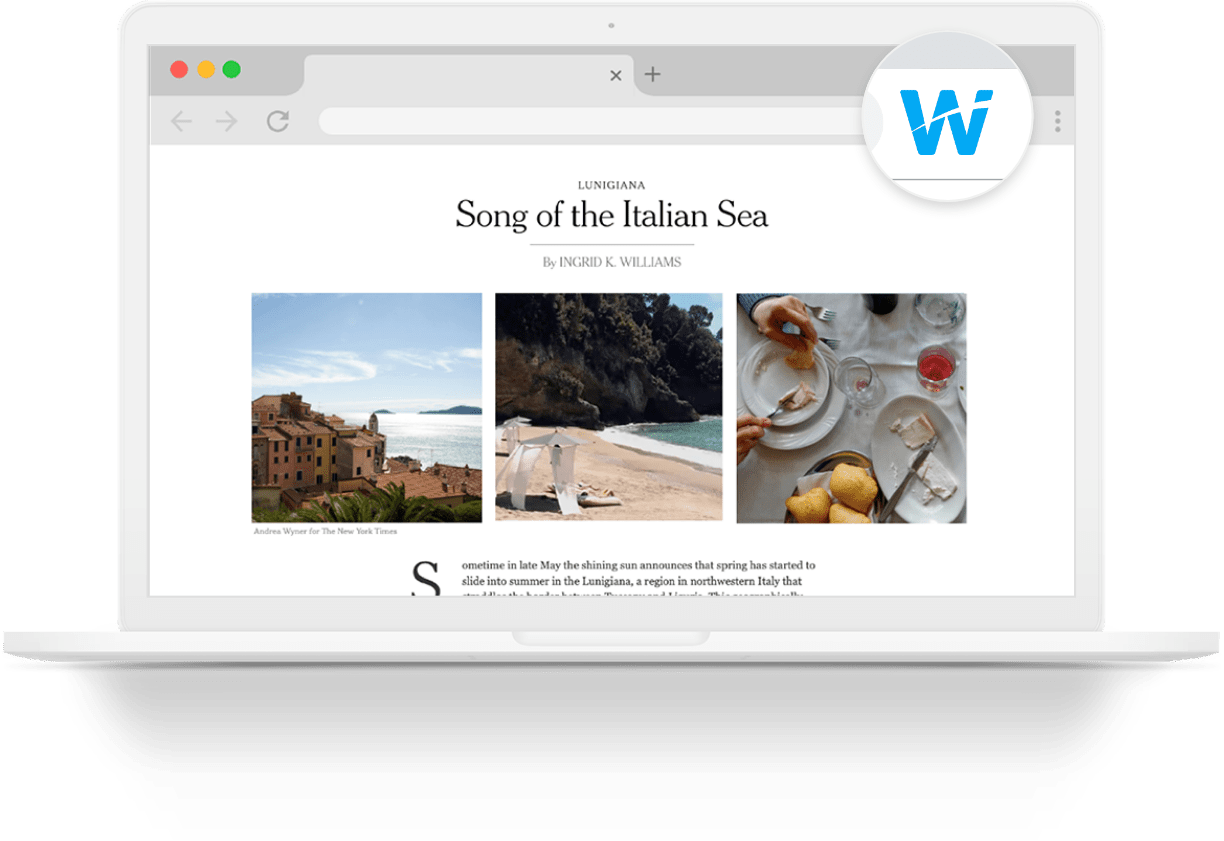 Once you sign up for Wakelet, I suggest installing the available browser extension and mobile app to enhance your use of Wakelet…
Wakelet Browser Extension
Save links, articles, videos, tweets and more with two clicks. Organize content without leaving your browser tab. Available for Chromium based browsers, Microsoft Edge, and Firefox…
Wakelet Mobile App
Use Wakelet whenever you like, wherever you are with our mobile app. Discover personalized content from around the world. Available at the Apple App Store and Google Play Store (for Android).
---
Thank You for visiting
"What's On My PC"
This is something you may really like that I happened across while browsing the web for new blog content. What I came across is a web based app called 'Cling' that allows you to add and collect "to dos", "notes", bookmark files" and "photos"…. Appears that 'Cling' is not available on any of the mobile platforms yet, but the site indicated it is coming soon. The first thing I did was import my browser bookmarks to 'Cling' to give me an opportunity to play around with it. On my phone, using my web browser, 'Cling' worked flawlessly and appeared quite nice; however, I will be looking forward to the Android app of 'Cling' when it comes out. Currently there is a Google Chrome extension that you can use to collect what you find to 'Cling' on your desktop computer or Chromebook.
In brief, you start with a board where you can add content such as  "to dos", "notes", bookmark files" and "photos". In the FREE version of 'Cling' you are entitled to 10 boards, 1 GB of storage, 1000 notes, links, files and to-dos… in addition to the search, bookmark-import & sharing features… The FREE version is ad-free…
Source: Cling – Your Notes, Links, Todos and Files in one App.
Background Generator is a free online utility enables users to generate unique creative images for all use purposes like computer wallpapers, blog and article illustrations, commercial backgrounds, posters and more. This image generating tool creates outstanding images by the random machine algorithm with 7 different styles and ensures every single generated image is 100% unique. Users can also customize the image size, and the tool can output high resolution images larger than 4K.
As a 100% pure online tool and runs on the Web Browser, Background Generator is a cross platform web service works with all popular devices (PC, Mac, iPad, iPhone, Android Phone, Tablets etc.) and operating systems (Windows, Mac OS, Android, iOS).
It has multi-languages includes English, German, French, Italian, Spanish, Dutch, Portuguese, Polish, Japanese, Korean, Simplified Chinese and Traditional Chinese.
Source: Background Generator
---
Thank You for visiting
"What's On My PC"
Upload a photo to "Trace" and watch the magic happen. "Trace" will remove everything in a photo, except the main object. For example, photo one below is a photo with background that shows a skunk. After uploading to "Trace", the skunk is now a skunk (with a transparent background) that can be singly used for other graphic creations. Here at "What's On My PC" I have put "Trace" through its' paces and it is awesome. The key is to use photos where there is a main object in the photo. I have had fun with "Trace" where I use "Google Drawings" as my graphic editor to merge my creations.
Source: Trace | Remove background from images fast | Sticker Mule Canada
Free online video converter, audio converter, image converter, eBook converter. No download or account required.
Convenience – No software to download. Just select your file, pick a format to convert to and away you go.
Speed – Aim to complete all our conversions in under 10 minutes.
Formats – Support 1200+ file formats, more than any other converter.
Experience – Have been successfully converting files since 2006 with millions of happy customers.
Support – Got a file you can't convert? Just email Zamar and they will ask their dedicated engineers to take a look for you.
Source:  Zamzar – video converter, audio converter, image converter, eBook converter
Nice web site, with animation, that will show you how to tie specific knots…
This website provides clear animations showing how to tie the knots most frequently needed in fishing, boating, climbing, scouting, surgery, search and rescue, splicing, household activities, decorative knot tying, and rope care.
Source: Animated Knots by Grog | How to Tie Knots | Fishing, Boating, Climbing, Scouting, Search and Rescue, Household, Decorative, Rope Care,
I really like this online radio service (called myTuner) and especially like when you find and select a station it will pop out into its' own small window (which allows you to listen while you surf). This app is available for many platforms and in my case; works on my Chromebook, Windows computers, and my Android devices as a dedicated app (smartphones and tablets).
Listen to your favorite radio stations and more than 50000 online radio stations for free on mytuner-radio.com. Easy to use internet radio.
Source: Listen to your favorite online radio stations – myTuner
You will love this virtual note board app, called "Note Board" that will help you remember tasks, write sticky notes, save web content, post pictures, etc… "Note Board" allows you to save content you come across with the Chrome or Firefox browser extensions; AND, is available as an Android or iOS app.
Organize notes: move your sticky notes to the board you want and drag the bottom right corner to resize.
Multiple boards: organize notes in boards, use textures to change the look of the board, move notes between boards.
Publish boards: when board's visibility is set to public, it is viewable by anyone, but nobody will be able to change the contents of the board except yourself. Visit the gallery to see examples.
Share boards: share boards with friends and let them have writing access rights or read-only.
Save web content: if you install the Chrome or Firefox extension right click the website you are viewing to store a note, a selection of text, an image, a link or the URL of the page.
Source: Note Board App
From what I can see, this logo maker is totally FREE!
Simply go to the homepage of Hatchful and then start creating your logo by clicking on the "Get Started" button from the top right corner. Next, it will ask you to choose a business to show you the relevant templates.
Source: Free Logo Maker to Create, Download Logos with All Social Media Assets
A Chrome Browser extension to reduce eye strain…
Screen Shader is a chrome extension for anyone that automagically changes the color of your screen to match up with daylight cycles in your timezone.
A FREE online image editor that you may want to take a look at (especially, if you are a Chromebook user)…
Open and edit PSD, XCF, Sketch (Photoshop, Gimp and Sketch) or any other image files. Inspect PSD and Sketch files. Convert Sketch to PSD. Apply photo effects and filters. A perfect alternative to Photoshop or Gimp.
Source: Photopea | Online Image Editor