From the creators of Opera, a Vivaldi Browser that is fast, but also a browser that is rich in functionality, highly flexible and puts the user first. A browser that is made for you. Finally you can surf your way.
The browser extension 'URL Render' permits you to navigate websites without leaving the search results pages. When you over a link on the search result page it open the website on the free space and allow you to preview – navigate on it. The browser extension is meant to increase your efficiency and speed, allowing you to find the information you need more rapidly.
Source: URL Render 
And to help users focus their attention elsewhere Vivaldi has added a 'break mode' feature. The feature is triggered by a button in the status bar, using a Vivaldi Quick Command, or by pressing the ctrl + . keyboard shortcut.
"Notes for Google Drive" is a "must have" Chromium-based (Chrome, Edge, Vivaldi, Brave, etc…) browser extension that allows you to quickly (and easily) create notes that automatically are saved to your Google Drive account.
Source: Google Chrome Store – Notes for Google Drive
Vivaldi is a new Web browser from the founders of the original Opera Web Browser. Vivaldi will adapt as you browse the web.

Source: FileForum – Vivaldi for Windows
Developer: Vivaldi Technologies
Here at "Tech News for You", I am caught between three web browsers: Google Chrome, Microsoft Edge, and Vivaldi. All three are excellent in my opinion and I actually struggle between choosing which one is my final pick. Vivaldi just released version 3.1 and their new full page notes manager has pulled Vivaldi back in the hunt as my top pick, edging out Microsoft Edge.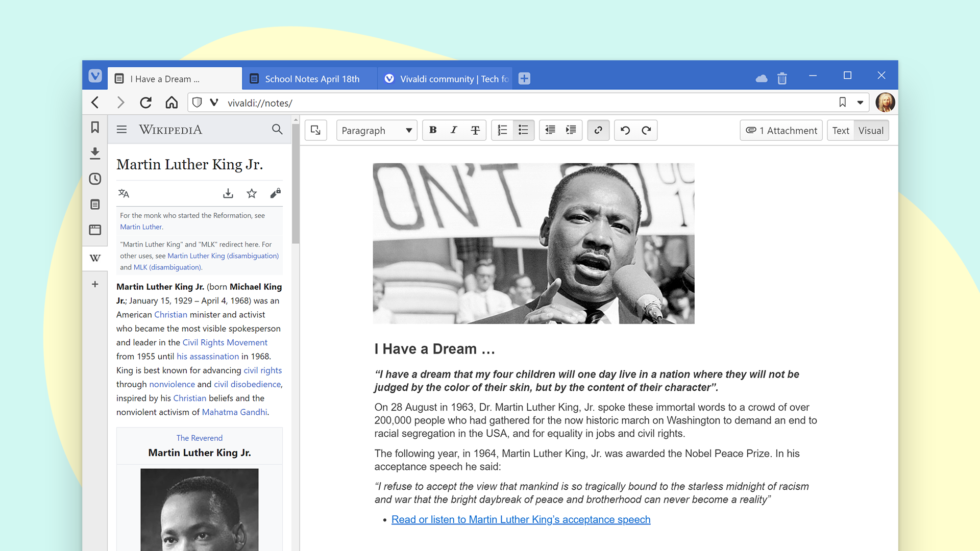 Source: Vivaldi
I really got excited when I came across the article at Chrome Unboxed that walks you though the steps of installing the Vivaldi Browser on the Chromebook. I am a big, big fan of Vivaldi; especially following their last version upgrade. To install Vivaldi on a Chromebook, you must have a Chromebook that supports Linux. If you do, follow the link below to read the rest of this story…
Vivaldi is a chromium based web browser that can be easily customized by the end-user. Vivaldi currently is the browser of choice, here at What's On My PC… So far, I am loving this over Google Chrome and Microsoft Edge.
Below you can click on the links to go to FreewareFiles to download or to the Publisher's main site to review and download.
Vivaldi at FreewareFiles | Vivaldi Home Page
In brief, I have been torn between three web browsers: Google Chrome, Microsoft Edge, and Vivaldi… All are "chromium based" web browsers. I was pretty much locked in with Microsoft Edge, but may be changing my mind upon the release of Vivaldi 3.0.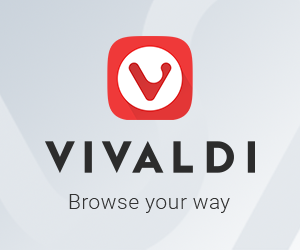 I am not going to get into specific details, but what has me thinking about Vivaldi now is that I immediately noticed the lag I had been experiencing in the previous version seems to be gone and many of the streaming video apps I run seem to now run better. It may just be me, but things in this browser, just look and run better.
Vivaldi is one of those browsers that for someone like me, allows me to customize the browser to my taste, with its' numerous common sense features that are not available in other web browsers. Vivaldi is one of those browsers that I predict will be talked about for years to come. I am also seeing that the Android version of Vivaldi has come out of beta and is also available at the Google Play Store.
I suggest you give Vivaldi a try. Main features of Vivaldi are:
Block trackers with built-in Tracker blocker – Vivaldi blocks sites from tracking you around the web so that you can browse privately and securely.
Block unwanted ads with built-in Ad blocker – Fine tune your experience by adjusting content blocker settings per site.
Take notes while you browse – Write down ideas in the browser's sidebar using Notes. Format text with Markdown, automatically attach screenshots, and more.
Add any site to your sidebar – Get quick access to your favorite chat apps, social feeds and news sites using Web Panels. Add as many as you like and rearrange with drag 'n' drop.
Manage tabs with ease – Vivaldi gives you full control of how you group, display and interact with browser tabs.
Keep your hands on the keyboard – Customize keyboard shortcuts to control nearly every aspect of your browsing and browse fast. Use Vivaldi's universal search – Quick Commands – to find open tabs, Bookmarks, History, and more.
Capture screenshots – Take screenshots of full web pages or a selection of the screen with Vivaldi browser's built-in Capture tool. Share or save what's on your screen with ease.
Go dark with Vivaldi browser – Take advantage of a predefined dark theme or create a new one from scratch. Vivaldi browser can even follow the theme of your OS to automatically switch between light and dark modes.
Source: Vivaldi
To you folks at home, I am sure you are very familiar with Google Chrome. Google Chrome is Google's signature web browser; but, did you know that Google Chrome is a spin off of what is called Chromium. Chromium (as defined by Wikipedia) is "a Google-developed, free and open-source project whose source code can be compiled into a web browser". There is actually a Chromium web browser.
As result of the Chromium platform being open source, other entities can freely use the source code to develop their own signature web browser platforms. For example, here at "What's On My PC" I have installed on my computer (for testing purposes) Google Chrome, the new Microsoft Edge, Vivaldi and Brave. Each one of the these browsers are built off the source code of Chromium and if you install and test drive these browsers you will notice the similarities to that of Google Chrome; however, each of these browsers have unique features.
Which one is better? Actually, they are all very good and it is exciting to see these browsers in competition with each other. It really comes down to a matter of opinion and maybe loyalty. Maybe you love Google products, Microsoft products or you like the idea of Open Source products. Maybe you love additional features; want more privacy and security; you want faster;  or, like myself, you love trying new software applications.
Which one is my favorite??? At this point (and that can change at anytime), my favorite is the open source browser called BRAVE. What is catching my attention with BRAVE is the (to the naked eye) smoothness, clarity and speed; the more aggressive security and privacy protections; and, the seamless compatibility with the Google Chrome Store (to install my browser extensions).
What "Chromium Platform Browser" is your favorite? Feel free to comment….
---
Thank You for visiting
"What's On My PC"