November 24, 2019
---
Today's Thoughts From Rick (How to get to the Gboard settings on Android):
As I continue down that path of the Android OS on my smartphone, I am continually finding new features, etc… that typically are not evident to the naked eye. Most folks will never go beyond what they are seeing. An area that I struggled with (and have no idea why) was trying to locate the settings on Gboard. Gboard is typically the keyboard that is installed on many Android phones (by default) and is a keyboard app developed by Google. I actually like it; especially, after I figured out how to get to the Gboard settings (where I can install themes, change the size of the keyboard, etc…). After I did figure this out I became curious and wanted to know if Google has a Gboard support site (???) and they do (click here); AND, from that support site here are the steps to get into the Gboard settings after you have the keyboard opened up on your phone:
On your Android phone or tablet, open any app that you can type with, like Gmail or Keep.
Tap where you can enter text.
At the top left of the keyboard, tap Open features menu .
Tap More   Settings .
Choose which settings to turn on, like Glide typing, Text correction, and Voice typing.
---
Today's Tech News Briefs:
How to slash your phone bill down to less than $7 a month; I don't know about you, but if my Google account was banned it would turn my life upside down; AND, Yahoo is streaming both tomorrow's Seahawks vs. Eagles game and Monday's game between the Ravens and Rams via Yahoo Sports for free.
---
Today's Software Pick:
Shortcuts for Google – If you are locked into the Google ecosystem, this Google Chrome browser extension is your baby. Display all Google™ services as buttons in a space-saving popup next to your address bar. Reach services like Gmail, Google Reader, Google Maps, Google Calendar, and many more in just two clicks from your browser. The extension includes more than 500 Google services and websites.
---
Today's Android Pick:
Reading Glasses – No more squinting to read that menu or pulling out that credit card sized magnifying glass from your wallet. Use your phone to magnify what you want to see. Reading Glasses provides a variable zoom and a flashlight, so you increase the magnification to a level you feel comfortable with and add a little light to dark situations.
---
Today's "How To" Pick:
How to Change the Desktop Background in Windows 10 – On your Windows 10 desktop, a background, also known as wallpaper, is simply the picture covering your desktop, behind the icons. To change it, follow these steps…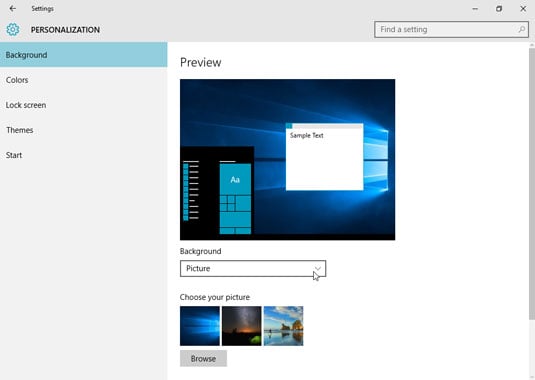 ---
Today's Amazon Deal (don't know how long this deal will last):
Great Savings on this Logitech G502 SE Hero High Performance RGB Gaming Mouse with 11 Programmable Buttons (Special Edition, 910-005728) for $35 with free shipping…
---
Thank you for visiting
'What's On My PC'