Learn How to fix a broken key on a standard keyboard @ TechRepublic
November 24, 2019
---
Today's Thoughts From Rick (How to get to the Gboard settings on Android):
As I continue down that path of the Android OS on my smartphone, I am continually finding new features, etc… that typically are not evident to the naked eye. Most folks will never go beyond what they are seeing. An area that I struggled with (and have no idea why) was trying to locate the settings on Gboard. Gboard is typically the keyboard that is installed on many Android phones (by default) and is a keyboard app developed by Google. I actually like it; especially, after I figured out how to get to the Gboard settings (where I can install themes, change the size of the keyboard, etc…). After I did figure this out I became curious and wanted to know if Google has a Gboard support site (???) and they do (click here); AND, from that support site here are the steps to get into the Gboard settings after you have the keyboard opened up on your phone:
On your Android phone or tablet, open any app that you can type with, like Gmail or Keep.
Tap where you can enter text.
At the top left of the keyboard, tap Open features menu .
Tap More   Settings .
Choose which settings to turn on, like Glide typing, Text correction, and Voice typing.
---
Today's Tech News Briefs:
How to slash your phone bill down to less than $7 a month; I don't know about you, but if my Google account was banned it would turn my life upside down; AND, Yahoo is streaming both tomorrow's Seahawks vs. Eagles game and Monday's game between the Ravens and Rams via Yahoo Sports for free.
---
Today's Software Pick:
Shortcuts for Google – If you are locked into the Google ecosystem, this Google Chrome browser extension is your baby. Display all Google™ services as buttons in a space-saving popup next to your address bar. Reach services like Gmail, Google Reader, Google Maps, Google Calendar, and many more in just two clicks from your browser. The extension includes more than 500 Google services and websites.
---
Today's Android Pick:
Reading Glasses – No more squinting to read that menu or pulling out that credit card sized magnifying glass from your wallet. Use your phone to magnify what you want to see. Reading Glasses provides a variable zoom and a flashlight, so you increase the magnification to a level you feel comfortable with and add a little light to dark situations.
---
Today's "How To" Pick:
How to Change the Desktop Background in Windows 10 – On your Windows 10 desktop, a background, also known as wallpaper, is simply the picture covering your desktop, behind the icons. To change it, follow these steps…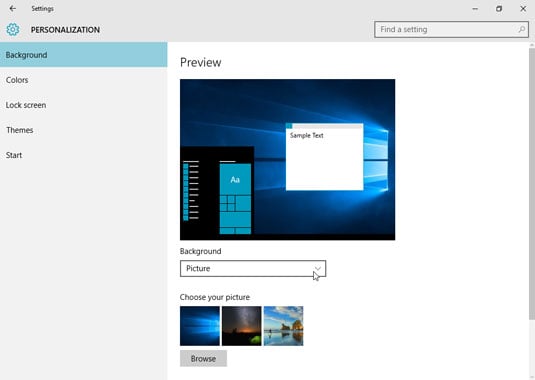 ---
Today's Amazon Deal (don't know how long this deal will last):
Great Savings on this Logitech G502 SE Hero High Performance RGB Gaming Mouse with 11 Programmable Buttons (Special Edition, 910-005728) for $35 with free shipping…
---
Thank you for visiting
'What's On My PC'
When I first started using my Chromebook (Acer Chromebook 15), coming from using Windows all my life, the first mystery I encountered was; "Where is the Caps Lock Key?". You know; the key you push down to toggle between lower and uppercase text.
Well, Google had to be different. Where the "Caps Lock" key typically is located (or labeled) on the keyboard (left side above the "Shift Key"),  you will notice there is a magnifying glass icon on the key. That key on the Chromebook is the "Search" key. On the newer Chromebooks this also can serve as the "Google Assistant" key that allows you to use Google Assistant. Typically, If you push the "Search" key on the Chromebook, the search option will pop up where you can search your device, apps and even the web (or Google Assistant will be activated, if you have the newer Chromebook). So, if that key is being used for search purposes, "Where is the Caps Lock Key?"
Mystery Solved: In Google's method to their madness strategy, the "Caps Locks" key is not a readily identifiable key; instead, you must use a keyboard shortcut. If you hold the "ALT" key + "SEARCH" key in combination, this serves the same purpose as the "Caps Lock" key (to change to uppercase text). When you do that you will see in the notification area (bottom right corner) a small notification popup alerting you that the "Caps Lock" is "on". To toggle it "off" either hit the "ALT" key + "SEARCH" key" again OR simply hit the "SHIFT" key.  Also, as an added note, if you really do not like this at all, you can go into your Chromebook settings, look for "Keyboard" and you will see an option where you can change (or remap) what the "Search" key performs.
If you can overcome some of the keyboard quirks on the Chromebook you will come to find that these Chromebooks are great computers; especially, for folks at home, kids and our elders (which is the category I am now heading into : ) …
Chromebooks are becoming the choice computer in many of the schools due to their ease of maintenance, better security, and low cost — CLICK HERE — to see what is out there.
Windows 10 has two variations of onscreen keyboards available. There is one of the two that I especially like (which WAS sort of difficult to get to). Once I discovered this keyboard (the one that I like) I decided there had to be a better way to launch it; and, as a result I came up with the following solution.
You are probably wondering; Why would I want an onscreen keyboard?  I have a TV set up connected to a Windows 10 computer where the onscreen keyboard is a great addition when I am too lazy to go to the real keyboard. You would be surprised how fast you can point, click and type using an onscreen keyboard. I could also see me using an onscreen keyboard in a training scenario or if I had a disability.
To create a shortcut to the keyboard that I use, right mouse click on the  "Windows Start button (bottom right corner)", then click on "run" and in the "run dialog box" type "osk"; then click on "OK". At this point, the onscreen keyboard (the one I like) launches. If the keyboard is too big you can resize it by dragging the sides or corners. If you notice on the top right side of the keyboard there is a "Windows minimize button".  Click on the "minimize button" and the keyboard will minimize to the Windows Taskbar (at the bottom of the screen).  At this point, right mouse click on the keyboard icon that is now on the taskbar and select "pin to taskbar".  There you have it…
Now when you want to quickly launch the onscreen keyboard, just go to the taskbar and click on the onscreen keyboard icon and the keyboard will quickly launch. There are other ways to get to this keyboard, but this is the method I prefer and found to be the most user-friendly.
---
Since we are on the topic of keyboards
and you want a real keyboard,
CLICK HERE
for inexpensive recommended solutions