Supports Windows, OS X and Linux… Clipboard managers are very useful; especially, if you are a writer, blogger, etc… where you can go back into your clipboard history to paste text and images. This one is FREE, Open Source and is also available in a portable app zip format.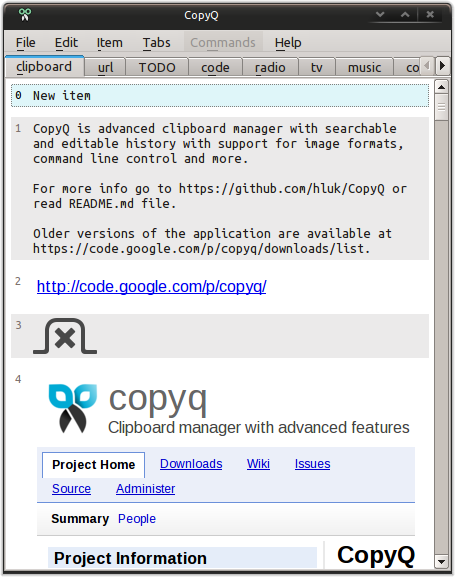 Source: Sourceforge – CopyQ
Clipdiary is a favorite of mine, here at "What's On My PC", that allows me to store all my copy/paste operations (text and image) on my computer. This is very handy when you are a blogger or writer and you need to copy/paste information into a blog post.
Clipdiary can either be fully installed or downloaded as a portable app. In my case, as usual, I go portable.
Clipdiary monitors the clipboard and automatically saves its contents to the clipboard history
Work with text, links, images, files, and all other clipboard formats
Supports Starred Clips and Labels. Mark clips as important and use Labels to organize them into folders
Snippets – often used text templates for quick pasting.
The clipboard history remains between reboots
You can retrieve the data stored in the clipboard history whenever you need to, even after many years
Database encryption support (AES-256)
Source: Clipdiary
---
Thank You for visiting
"What's On My PC"
Ditto is an extension to the standard windows clipboard. It saves each item placed on the clipboard allowing you access to any of those items at a later time. Ditto allows you to specify what gets saved, text, images or html.
Windows 10 has its' own clipboard manager, but it is limited in features and capacity. This is where "Ditto" can take over. "Ditto" can be installed or can be used as a portable app. In my case, I usually go portable to play around with the software; plus, it makes it easy to remove from my system. If you are someone that does a great deal of word processing, blogging, etc…, "Ditto" is a software application to take a look at.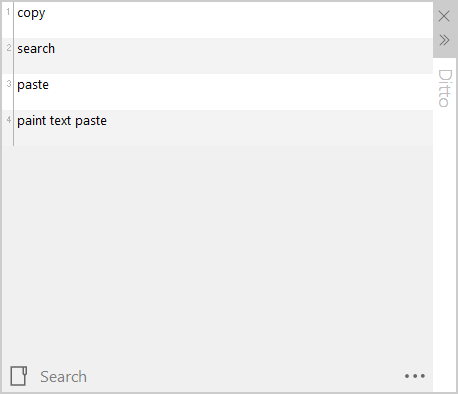 Source: Ditto
An app that I installed on my phone that has been invaluable to me when blogging is an app called "Clipboard Manager". Clipboard Manager is a simple and powerful application to manage your clipboard, keep history, fast access to your notes in history, etc. If you install and use this app and find it is not showing up in the notifications; go into your phone's settings and under the battery settings app management, allow the app to run in the background. This is a nice app if you are constantly copying/pasting text-based material…
As a blogger, I am often performing repetitive Windows clipboard "copy/paste" operations of texts, image, and files. Windows 10 recently added a clipboard history saving feature that is helpful; but, is very limited in capacity and what it can do. This is where "ClipClip" filled the void.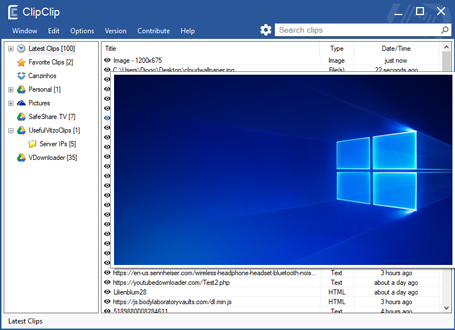 ClipClip is a productivity tool which expands the functionality of your clipboard. Instead of having a single item in your clipboard, you can have hundreds. This means you no longer have to switch between windows when copying and pasting several items. You can also search through your clipboard history to find something you copied recently or up to several months ago, depending on your privacy settings. Saved Clips are stored as normal files (txt, html, jpeg, etc) on your hard drive so you may use your favorite cloud service (e.g. Dropbox, Google Drive or even SVN) to share Saved Clips with your team.
What a clipboard manager does is capture and archive your "copy / paste" operations. If you are looking for one with a ton of features, then check out ClipAngel (see source link below). If you don't believe me, check out the feature list below. ClipAngel is an open source program that is a portable app.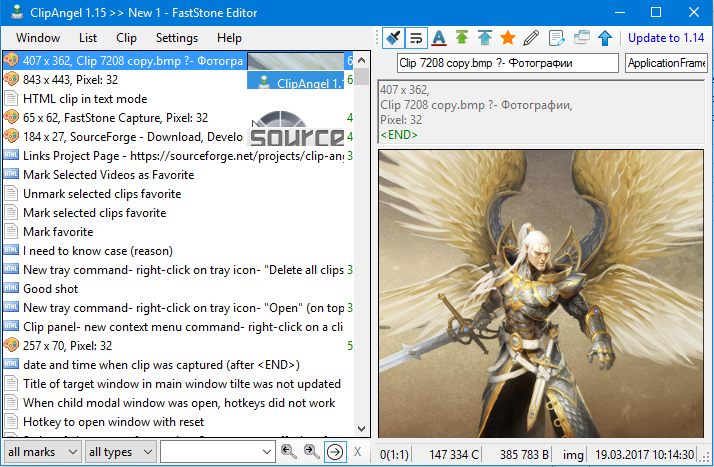 Supports clipboard formats: text, html, rtf, file, image
Captures data of supported types copied to clipboard (clips)
Captures sender window title and process name for clip
Shows source URL for HTML clip
Filter by marks "Used (Pasted)" and "Favorite" with keyboard shortcuts
Filter by clip type
Hot (as you type) text filter for clip list
Stores last used for paste text filters
Marking used (pasted) clips
Marking filter matches in text
Marking hyperlinks in text and Alt+click to open them
Marking END of clip text
Marking filter matches in list
Allows to paste clip as original or plain text selected or all
Repeated external copy of any previous clip raises it to top of list
Settings "Max clip size KB" and "History depth number"
Setting "Hotkey to open window with reset"
Searching back and forward filter text in text
Ability to delete and move clips in list
Text filter and clip list share key presses, no need to change focus
History is stored encrypted on disk
Setting "Hotkey to incremental paste"
Switch "word wrap"
Switch "move just pasted clip to top"
Switch "show column with short visible size of clip"
Command "Edit clip title"
Edit clip text mode
Commands "Mark/Unmark favorite" for clips
Support for format "Clipboard Viewer Ignore" to respect password copy privacy
Auto and manual check for new version and one click update
Portable mode
Auto position window on open near text input
Switch "Always on top" for window
Command to open clip as file
Command to simulate char input (for windows isolated from clipboard)
Support for sending paste and input to elevated windows
Switch "Monitor clipboard"
Switch "Monospaced font"
Switch "Clear filters on window close"
Filter ON indication in "Clear filter" button
Full support for difficult windows in paste command (cmd.exe and non fullscreen RDP)
Text position indicator shows offset, column and line number, selection length
Clip list shows samples for picture clips
Switch "Native formatting" for HTML and RTF clips
Switch "Show clip source icon column"
Automatic window open after capture text clip from ABBYY Screenshot Reader
Command "Text compare" with support for Beyond Compare, ExamDiff Pro, WinMerge, Araxis Merge, DiffMerge and custom application
Command "Translate text"
Target window title is shown in window title after " >> "
Setting "Default font"
Setting "Hotkey to open window with favorites"
Command "Clear clipboard"
Command "Move to top"
Switch "Copy text in any window on Control+F3"
Setting "Hotkey to compare last clips"
Commands to set type filter values
Switch "Autoselect first match"
Multiselect clips in list supported by most commands
Setting "Hotkey to open window with no changes"
Command "Switch focus list/text F10"
Series >3 identical chars are cut off in clip autotitle
Setting "Folder for clip temp files"
Tooltip on clip row in list
Switch "Case sensitive search"
Switch "Search independent words"
Switch "Search '%' as any char sequence"
Setting "Database file" to switch clip lists
Drag&Drop clips from list
SOURCE: Sourceforge – ClipAngel
I have a LG phone and it has its' own built in clipboard manager to store anything I copy and paste; however, it is not the best and I often forget about it due that it is hard to find.  It also does not have many features.
Well this all changed for me when I found Clipo: Smart Clipboard Manager. In a nutshell, with Clipo you will get a floating bubble after you copy text, etc… to the clipboard that gives you a multitude of options to take what you copied and perform a multitude of tasks (see features below).  One thing to point out, I mentioned that Clipo has a floating bubble.  This feature will need to be turned on in Clipo's setting. If you don't like the floating bubble, then simply go to the Clipo app to select what you want to do with what you clipped (or copied).  Clipo, itself is a clipboard manager that stores everything you copy…
Features:
👍 No Ads, No Freemium Stuff, No Donations! Free Clipboard made for you!
👍 See all your clips, in a clean and intuitive materially designed list! You can quickly copy an older clip to the Clipboard for using!
👍 Search: Get a quick action to search the copied text on the search engine of your choice – Google, Bing, Baidu, AOL, DuckDuckGo!
👍 Call: Filters your clips and detects phone numbers to give you a one tap to call experience!
👍 Add to Contacts: Filter phone numbers and quickly add to contacts!
👍 Open Link: Quickly open a link in your clip!
👍 Shorten Link: Quickly shorten a url and get it to share quickly!
👍 Email: Detect emails and get a tap to write email action!
👍 QR Code: Convert text to QR code instantly with one tap and share it to your friends!
👍 Define: Quickly get meanings to words you copy! Get notification for the definition and also inside app anytime!
👍 Speak Out: Speak out the word you copied with one tap!
👍 Translate: One tap to translate the text you copied to the language of your choice!
👍 Export: Export to SD Card
👍 Export/Import/Backup: Backup and Import your clips!
👍 Get a floating bubble when you copy text!
👍 Mark Clips as favorites, archive them for later!
👍 Select your notification background from a wide variety of colors!
👍 Timeout and automatically remove notifications
---
Thank You For Visiting
MAKE SURE YOU ALSO VISIT
Bookmarks4Techs  –  GEGeek  –  Downloads
Tech News  –  Tech Deals  –  Archives (of all articles)
---
TECH DEAL
KMASHI 10000mAh Portable Power Bank
(keep one of these handy to keep your phone charged)