According to PCWorld, Google's going to be playing with the new setting over the next few months. The company plans to block abusive ads by default in the stable version of Chrome toward the end of August, ostensibly to give advertisers some time to get their resource-hungry ads under control.
If you'd rather stop these ads from revving up your computer and draining your resources today, simply head to chrome://flags/#enable-heavy-ad-intervention in Chrome's URL bar and enable the Heavy Ad Intervention flag manually.
I really got excited when I came across the article at Chrome Unboxed that walks you though the steps of installing the Vivaldi Browser on the Chromebook. I am a big, big fan of Vivaldi; especially following their last version upgrade. To install Vivaldi on a Chromebook, you must have a Chromebook that supports Linux. If you do, follow the link below to read the rest of this story…
Vivaldi is a chromium based web browser that can be easily customized by the end-user. Vivaldi currently is the browser of choice, here at What's On My PC… So far, I am loving this over Google Chrome and Microsoft Edge.
Below you can click on the links to go to FreewareFiles to download or to the Publisher's main site to review and download.
Vivaldi at FreewareFiles | Vivaldi Home Page
In brief, I have been torn between three web browsers: Google Chrome, Microsoft Edge, and Vivaldi… All are "chromium based" web browsers. I was pretty much locked in with Microsoft Edge, but may be changing my mind upon the release of Vivaldi 3.0.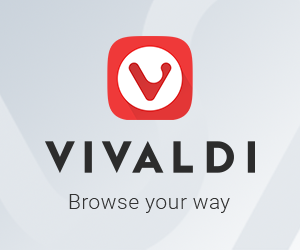 I am not going to get into specific details, but what has me thinking about Vivaldi now is that I immediately noticed the lag I had been experiencing in the previous version seems to be gone and many of the streaming video apps I run seem to now run better. It may just be me, but things in this browser, just look and run better.
Vivaldi is one of those browsers that for someone like me, allows me to customize the browser to my taste, with its' numerous common sense features that are not available in other web browsers. Vivaldi is one of those browsers that I predict will be talked about for years to come. I am also seeing that the Android version of Vivaldi has come out of beta and is also available at the Google Play Store.
I suggest you give Vivaldi a try. Main features of Vivaldi are:
Block trackers with built-in Tracker blocker – Vivaldi blocks sites from tracking you around the web so that you can browse privately and securely.
Block unwanted ads with built-in Ad blocker – Fine tune your experience by adjusting content blocker settings per site.
Take notes while you browse – Write down ideas in the browser's sidebar using Notes. Format text with Markdown, automatically attach screenshots, and more.
Add any site to your sidebar – Get quick access to your favorite chat apps, social feeds and news sites using Web Panels. Add as many as you like and rearrange with drag 'n' drop.
Manage tabs with ease – Vivaldi gives you full control of how you group, display and interact with browser tabs.
Keep your hands on the keyboard – Customize keyboard shortcuts to control nearly every aspect of your browsing and browse fast. Use Vivaldi's universal search – Quick Commands – to find open tabs, Bookmarks, History, and more.
Capture screenshots – Take screenshots of full web pages or a selection of the screen with Vivaldi browser's built-in Capture tool. Share or save what's on your screen with ease.
Go dark with Vivaldi browser – Take advantage of a predefined dark theme or create a new one from scratch. Vivaldi browser can even follow the theme of your OS to automatically switch between light and dark modes.
Source: Vivaldi
Microsoft's gamble on a Chromium-based Edge browser appears to have paid off, at least in the short term. Bleeping Computer noted that Edge is now the second most popular desktop web browser based on usage, with NetMarketShare giving the software nearly 7.6 percent of the market in March, eclipsing a declining Mozilla Firefox with almost 7.2 percent. Edge is still far behind Chrome's 68.5 percent, but that's no mean feat for a browser that wasn't even three months old.
Source: Microsoft Edge becomes the second most popular desktop web browser | Engadget
Here is a great way to try the Vivaldi (Chromium) web browser. I am closely monitoring the development of this browser.
Vivaldi is a customizable, tabbed web browser based on the same engine as Google Chrome. Its appearance and capabilities can be extended with themes and extensions. It features a bookmark manager, speed dial, notes, custom search engines, sessions, tab stacks, web panels, mouse gestures, keyboard shortcuts, user interface scaling, adaptive interface color and much more.
Cross-platform with clients available for Mac and Linux.
I recently posted, "How To Get The NEW Microsoft Edge NOW…" for your computer; but, did you know you can also get the "NEW Microsoft Edge for Android"?  Well, you can; and, based on the customer review ratings to this point, it is going to be a winner.
ntroducing the new Microsoft Edge . It's time to expect more. More privacy. More control. More productivity. More value. Browse anywhere with one continuous experience from your phone to your computer and other signed-in devices. Microsoft Edge gives you the tools to protect your privacy online with features like tracking prevention, AdBlock Plus, and InPrivate mode. Organize the web in a way that cuts through the clutter, making it easier to find, view, and manage your content on-the-go. With world class compatibility, performance, and new features, the new Microsoft Edge is the only browser you'll ever need.
Thanks to the advice of Soulja of Hope (a former tech blogger) I have walked away from Google Chrome and now a user of the Vivaldi Browser. This Chromium based browser is young, fast, secure and and loaded with common sense customization features. I highly recommend it. Today, Vivaldi released version 2.11…
Your browser matters. Vivaldi is a new browser with unrivaled customization and control. Fast, secure and flexible – this is a browser made for you.
Here at What's On My PC I am familiar (in name) with this browser (called Brave), built on the Chromium platform, that features some pretty aggressive privacy protections and reportedly is super-fast. One question I had, is "Will my Chrome Browser extensions work with Brave since it is built on the Chromium platform?". Answer, according to this article, is "yes". Will have to take a good look at "Brave" to see where it stands in the comparison to Google Chrome, Vivaldi, and the new Microsoft Edge.
To read more about "Brave", I encourage you to read the review at the Help Desk Geek (source link reflected below).
Brave has positioned itself as the faster loading browser with better privacy protection than the bulk of its competitors. A core feature of Brave is that it blocks ads by default. Something that originally created quite a stir as many viewed this as a serious threat to content creators. However, this is not entirely the case.
Recently, I posted an article, "Did you know there is a NEW Microsoft Edge?". Since the posting of that article, I have downloaded Edge, installed my favorite extensions from the Google Chrome Store (and the Microsoft Store) and have been putting Edge through its' paces. So far, I am liking what Microsoft has done here. If you are like me and have found Microsoft Edge a possible contender in the browser market, you can follow along with Microsoft in the development of Edge at "Microsoft Edge Insider – What's New (Straight from the cutting edge".
---
Thank You for visiting
"What's On My PC"
Eventually, you will see the NEW Microsoft Edge on your computer. For the people in the world of tech, this may be exciting news. For the people at home, changes like this cause anxiety (i.e. Now what???). Microsoft Edge is the web browser built into Windows 10. Most folks I work with at home have Google Chrome or Firefox installed due to the issues that were associated with Edge. Well, Microsoft has listened and there is now a NEW Microsoft Edge that is built off of, get this, the Chromium browser engine (or guts) which is the same distinct engine that Google Chrome is built off of. Keep in mind, Microsoft and Google are competitors in the world of tech, so this is interesting in that aspect. I am seeing, more and more, where the tech giants are sort of working together to help make our computer experiences more seamless.
I have played around with the NEW Microsoft Edge and I am impressed. I am impressed by the interface, the speed, the features, the security and most importantly (for me) that you can use the same browser extensions that you find in the Google Chrome Store. I also found in the settings that you will eventually be able to import your extensions from Google Chrome. You can, right now, import your bookmarks from other browsers easily.
If you don't want to wait for the NEW Microsoft Edge to arrive on your computer, you can get it now by visiting the Microsoft Edge download site — CLICK HERE — . The download and install worked for me without a hitch. If you download and install Edge, you may be prompted to make Edge your default browser. You may want to skip over that until you have taken it for a spin. I think if you do, you will stand back and say, "Hey this is pretty good"…
---
Thank You for visiting
"What's On My PC"