November 23, 2019
---
Today's Thoughts From Rick (Windows 7 Support Ends On January 14, 2020 – What should I do?)
I have been receiving calls from folks that have Windows 7 based computers at home that they are now receiving a Windows 7 EOL (end-of-life) message from Microsoft, on their computer screen, advising them to either upgrade to Windows 10 or buy a new computer. Windows 7 is due to reach EOL on 14 January 2020. What that means is that the computer and Windows 7 will continue to run as it always has; BUT, you will receive no more bug-fixes, security patches or new functionality support, leaving you significantly more susceptible to malware attacks. Windows 7 is probably the best OS that Microsoft ever built, but it is time to send Windows 7 to the afterlife. For you folks at home, either upgrade or consider buying a new computer. If you decide to upgrade and need a starting point for this – CLICK HERE. Just make sure you have a migration plan, that you backup your personal files and make sure that your computer hardware can handle Windows 10. If you want a starting point to buy a new PC – CLICK HERE.
---
Today's Tech News Briefs:
Several high profile Android apps still have vulnerabilities discovered years ago (Messenger, Instagram, and WeChat are among hundreds of unpatched apps); In a 4-3 ruling, justices from Pennsylvania's highest court overturned a lower-court order that required the suspect in a child-pornography case to turn over a 64-character password to his computer; AND, Users have been warned not to download a fake Windows 10 update which is actually packed with malware.
---
Today's Software Pick:
WinUpdatesView – Displays the history of Windows updates on your system. It can load the Windows updates history from your local system, using API, and it can also read and parse the Windows updates database file (DataStore.edb) from external drive or from remote computer on your network.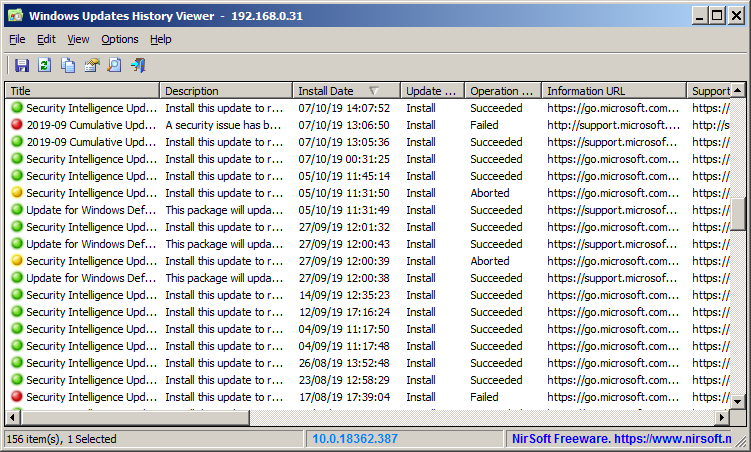 ---
Today's Android Pick:
Post-it – Capture more than 200 individual square Post-it® Notes at a time with your camera. Draw, erase, type and change the color of your notes using powerful editing tools. Organize your way—group your ideas by thought or simply organize on a grid. Combine boards—collect and combine ideas from across multiple sessions. Share to your favorites—supports PowerPoint, Excel, PDF, Dropbox, and more.
---
Today's "How To" Pick:
How to Cast from Firefox to Roku – There are many things you can do on your Roku device. For example, you can send videos from Firefox to your Roku. This is useful for people who are on their phones a lot, but they want to view videos on a large screen.
---
Today's Amazon Deal (don't know how long this deal will last):
Save up to 30% on Ztotopcase iPad Cases and iPhone Cases
---
Thank you for visiting
'What's On My PC'