I use Google Drawings quite a bit for amateur graphic design and have found it quite capable; however, one aspect I find missing in Google Drawings is a color picker eyedropper. As a result, what I did was install a Chromium based browser extension (that will work on Chrome, Edge, Vivaldi, etc..) that gets the job done, called ColorPick Eyedropper.
ColorPick Eyedropper is described as a zoomed eyedropper & color chooser tool that allows you to select color values from web pages and more. If you do any type of graphic design on the computer you already know what this type of tool does. One thing to point out is that the tool is FREE; but, after saving 50 color choices, it may prompt you to contribute. You can get around that by clearing the history. Overall, excellent job by the developer on this tool and has met my needs when working in Google Drawings.
Source: Google Chrome Store – ColorPick Eyedropper
I have been in a mode looking at web apps (with mobile sharing support) that will allow me to create collections of things (from the web). For example, I visit Amazon a lot looking for tech products, and often focus on specific items. As a result, I needed a means to collect what I am specifically looking for into specific collections, categories or titles. There are many applications out there to do this, BUT it dawned on me there is one app that can do this easily (with its' excellent web browser extension and mobile app support) and it is Flipboard.
Flipboard has been around awhile and is probably one of the most attractive, and most popular applications out there. It is typically used by people as a news app where the news topics are created into a magazine like interface. As a matter of fact, each news topic is created in a magazine (or category) of its' own that you can add to. The one feature that dawned on me is that you can create your own magazines (or topics or categories). For example, I was looking for hiking boots. I created a magazine called hiking boots and when I came across something of interest (using the Flipboard browser extension) I would add that interest to the hiking boots magazine (or category). I can add my own description or note and even share the magazine publicly (or just keep it private). What is really cool about this is that once you do this, the end result of your findings is presented in a really beautiful type of interface, like what you would actually see in a magazine. The biggest problem I ran into, after saving stuff to Flipboard, was finding where Flipboard was saving "my stuff" or my magazines. To get to "your stuff", look under your profile where "your stuff" or magazines are presented in a very nice interface.
In summary, with Flipboard you can:
Read stories from the best publishers – Find your favorite publishers like the New York Times, the Wall Street Journal, Reuters, the Washington Post, Axios, Vanity Fair, Rolling Stone and thousands more.
Curate your perspective – Collect stories around specific themes and add them to personal magazines
Stay informed – Keep up with the latest news with breaking news alerts and go in depth into the issues that matter to you
Dive deep into your passions – Discover personalized stories that interest you
Source: Flipboard
---
Thank You for visiting
"What's On My PC"
I encourage you to take a look at Wakelet, which is an online FREE service that is an amazing way to bookmark, organize and curate content from across the web and use it to create beautiful, informative and engaging collections. What sold me on Wakelet is that I can create collections that can be easily managed, annotated, shared, etc… I can see this service being very useful for educators. For example, when I am looking for content to post on the blog, I use Wakelet to save my findings in a collection for future reference.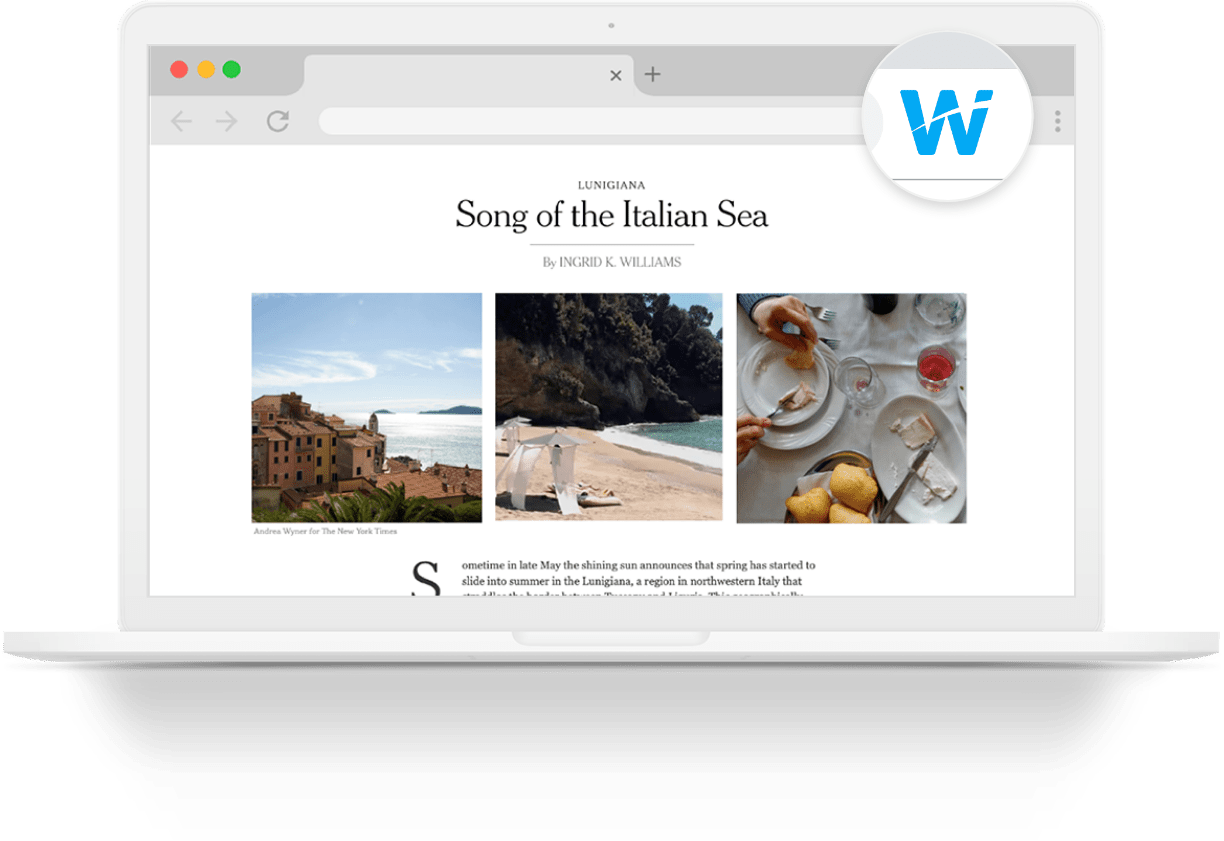 Once you sign up for Wakelet, I suggest installing the available browser extension and mobile app to enhance your use of Wakelet…
Wakelet Browser Extension
Save links, articles, videos, tweets and more with two clicks. Organize content without leaving your browser tab. Available for Chromium based browsers, Microsoft Edge, and Firefox…
Wakelet Mobile App
Use Wakelet whenever you like, wherever you are with our mobile app. Discover personalized content from around the world. Available at the Apple App Store and Google Play Store (for Android).
---
Thank You for visiting
"What's On My PC"
This is something you may really like that I happened across while browsing the web for new blog content. What I came across is a web based app called 'Cling' that allows you to add and collect "to dos", "notes", bookmark files" and "photos"…. Appears that 'Cling' is not available on any of the mobile platforms yet, but the site indicated it is coming soon. The first thing I did was import my browser bookmarks to 'Cling' to give me an opportunity to play around with it. On my phone, using my web browser, 'Cling' worked flawlessly and appeared quite nice; however, I will be looking forward to the Android app of 'Cling' when it comes out. Currently there is a Google Chrome extension that you can use to collect what you find to 'Cling' on your desktop computer or Chromebook.
In brief, you start with a board where you can add content such as  "to dos", "notes", bookmark files" and "photos". In the FREE version of 'Cling' you are entitled to 10 boards, 1 GB of storage, 1000 notes, links, files and to-dos… in addition to the search, bookmark-import & sharing features… The FREE version is ad-free…
Source: Cling – Your Notes, Links, Todos and Files in one App.
Background Generator is a free online utility enables users to generate unique creative images for all use purposes like computer wallpapers, blog and article illustrations, commercial backgrounds, posters and more. This image generating tool creates outstanding images by the random machine algorithm with 7 different styles and ensures every single generated image is 100% unique. Users can also customize the image size, and the tool can output high resolution images larger than 4K.
As a 100% pure online tool and runs on the Web Browser, Background Generator is a cross platform web service works with all popular devices (PC, Mac, iPad, iPhone, Android Phone, Tablets etc.) and operating systems (Windows, Mac OS, Android, iOS).
It has multi-languages includes English, German, French, Italian, Spanish, Dutch, Portuguese, Polish, Japanese, Korean, Simplified Chinese and Traditional Chinese.
Source: Background Generator
---
Thank You for visiting
"What's On My PC"
Upload a photo to "Trace" and watch the magic happen. "Trace" will remove everything in a photo, except the main object. For example, photo one below is a photo with background that shows a skunk. After uploading to "Trace", the skunk is now a skunk (with a transparent background) that can be singly used for other graphic creations. Here at "What's On My PC" I have put "Trace" through its' paces and it is awesome. The key is to use photos where there is a main object in the photo. I have had fun with "Trace" where I use "Google Drawings" as my graphic editor to merge my creations.
Source: Trace | Remove background from images fast | Sticker Mule Canada
Today in my email I received the below information in regards to an online TV Service, called "locast". Here at "What's On My PC" I am familiar with "locast" and thought I would share this information with my readers as another FREE online TV provider option. You can watch "locast" channels online or through various app platforms (such as Android and Apple). I have found it to be a good option; but, there are "locast" interruptions (for donations) and you can make the interruptions go away via a monthly donation commitment.
Locast is a public service to Americans, providing local broadcast signals over the Internet in select cities. All you have to do is sign up online, provide your name and email address, and certify that you live in, and are logging on from, one of the select US cities ("Designated Market Area"). Then, you can select among local broadcasters and stream your favorite local station.
Locast.org is a "digital translator," meaning that Locast.org operates just like a traditional broadcast translator service, except instead of using an over-the-air signal to boost a broadcaster's reach, we stream the signal over the Internet to consumers located within select US cities.
Source: locast.org
---
Thank You for visiting
"What's On My PC"
The past several days here at "What's On My PC" I have been focused on various office suites that are available for FREE for folks at home. Each of those suites requires software to be installed. Another, online option, that requires no installation, that I find many people at home overlook is Google Docs (which includes Google Docs, Sheets and Slides). You can do a lot with this office suite and you can even configure this office suite so that you can save and open your files, even when you are offline (not connected to the internet). The only requirement to turn "on" offline use is that you use the Google Chrome browser and install a browser extension (see instructions below).
Continue reading "What You Need To Do In Order to Save and Open Google Docs, Sheets & Slides Offline" →
When I go camping in my RV I typically use my smartphone's data plan to stream content (without wifi) to the TV in my RV using a device called  "Screenbeam Mini 2". You can read my recent review on the Screenbeam Mini 2 HERE. It is an awesome device that can be purchased HERE…
For that real TV experience, I use two totally FREE online TV services that I want to share with you. One of the services I am sure you may have heard of, but the second was something that was totally new to me. No, you won't find all the top channels you typically watch, but the content from both of these services will keep you entertained: both cover a wide range of topics (channels): both are optimized for streaming: and, both are available as mobile apps. I am also seeing where both of the services are actually being bundled and included with some of the newer TV's.
Ok, now for the grand finale and time to reveal both of these services. I hope you enjoy them…
---
Pluto TV is the leading free streaming television service in America, delivering 100+ live and original channels and thousands of on-demand movies in partnership with major TV networks, movie studios, publishers, and digital media companies. Millions of viewers tune in each month to watch premium news, TV shows, movies, sports, lifestyle, and trending digital series. Headquartered in Los Angeles, Pluto TV is a top free app and available on all mobile, web and connected TV streaming devices.
---
XUMO is your destination for free LIVE and on-demand streaming entertainment. With over 160 different channels to choose from, you won't get bored. Tune in for newly launched music channels, breaking news, epic fails, stand up comedy, sports, news coverage, and more. Select channels as "Favorite" for an experience tailored to you. Share the latest from the guys at Funny or Die, gather 'round for this week's Movie of the Week from our collection of FREE Movies, catch-up on full length seasons of TV shows like Roseanne, Hell's Kitchen, Unsolved Mysteries, and more, or witness history being made during LIVE tournaments from the 2019 PGA TOUR Season. Stay up to date, but most of all, stay entertained with XUMO.
---
This is a great online web alternative to Photoshop or Gimp… If you own a Chromebook, Photopea may be the image editor you are looking for.
Photopea is an advanced image editor, which can work with both raster and vector graphics. You can use it for simple tasks, such as resizing images, as well as complex tasks, such as designing webpages, creating illustrations, processing photographs and more.
Open and edit PSD, XCF, Sketch (Photoshop, Gimp and Sketch) or any other image files. Inspect PSD and Sketch files. Convert Sketch to PSD. Apply photo effects and filters. A perfect alternative to Photoshop or Gimp.
Source: Photopea | Online Photo Editor
---
If you are into Wikipedia, you may want to take a look at Wikiwand. Very nice, interesting and modernized interface that makes reading Wikipedia articles a more pleasant experience to read. Wikiwand is available on many platforms (web and mobile). I currently have bookmarked their Start-News page in my web browser that enables me to jump to their web interface.
Wikiwand is the world's leading Wikipedia reader for web and mobile.
Source: Wikiwand
Google recently launched a new web app called Chrome Canvas that allows you to doodle and jot down notes right in your browser. The new tool, which appeared without warning, can be accessed anytime by visiting canvas.apps.chrome.
Nice web site, with animation, that will show you how to tie specific knots…
This website provides clear animations showing how to tie the knots most frequently needed in fishing, boating, climbing, scouting, surgery, search and rescue, splicing, household activities, decorative knot tying, and rope care.
Source: Animated Knots by Grog | How to Tie Knots | Fishing, Boating, Climbing, Scouting, Search and Rescue, Household, Decorative, Rope Care,