If you have lost a product key or serial number, then put LicenseCrawler to work… This software is Windows based and is available as a full install or as a portable app.
---
Free version of remote desktop software that includes key features and allows you to control up to 30 computers simultaneously free of charge!

LiteManager
TABLERONE – A Google Chrome browser extension that allows you to save tabs for later and organize browsing sessions.
Source: Tablerone
Add Disk Cleanup to Context Menu in Windows 10 contains the registry files to add Disk Cleanup to the Context Menu when you right-click on any drive.

Source: MajorGeeks
MiniTool Video Converter is a completely free and fast HD video conversion software that can convert more than 1000 types of multimedia formats, including 4K/FHD/HD MP4, MOV, MKV, AVI, WMV files and audio in MP3, WAV, M4A, WMA, AAC, FLAC, AC3. In addition, there is a built-in video downloader for users to save YouTube videos, and music to the computer.
The album info can be manually entered or automatically via the Internet. Many different ways are offered for collecting the album related information without any typing.
Free IP scanner is a very fast IP scanner and port scanner. It is intended for both system administrators and general users to monitor and manage their networks. Powered with multi-thread scan technology, this program can scan hundreds computers per second. It simply pings each IP address to check if it's alive, then optionally it is resolving its hostname, scans ports, etc.

Eusing Software
---
If you were a Google Cloud printer user, then PaperCut Mobility Printer is the BEST alternative option…
How does it work?
Download and install Mobility Print on a VM or computer that has access to your printers
Deploy with Google Workspace, or share a setup link with your users to guide them through a few steps to get access to your printers
Not bad for something that's 100% free.
---
Popout Plus is one of those hidden gems in the Google Chrome store that is not given enough credit for what this extension allows you to do. That may be due to the fact that most folks don't understand its' purpose. With this extension, you can create popout browser windows for whatever web site you have loaded into the browser. For example, I can load Facebook into my browser, click on the Popout Plus icon on the toolbar and Facebook will pop out into a nice clean window (similar to a window that you see in MS-Windows). Once it is in that windowed interface, you can resize it, etc… If you go into the options of Popout Plus, you have options to save your windowed sessions so that the next time you load, say, "Facebook", it will remember the window size, etc… You can also assign keyboard shortcut keys where anytime you open up your browser and desire to pop out a specific web site, you can quickly create the popout (or load a previous one) with the shortcut keys on your keyboard. As I mentioned, this is a gem of a browser extension that I hope the developer takes heart and keeps up to date.
It is a simple and straightforward app you can use on your phone to scan documents and export them as images. It even allows you to export scanned documents as PDFs.

I Love Free Software
Uninstalling Antivirus software can be tricky business and often requires a specialized uninstaller that is provided by the developer of the software. Antivirus Removal Tool will help you identify the currently installed antivirus programs; will search for leftovers of past installations; will activiate and uninstall the antivirus software with Windows built-in functionality; and, then will run the specialized uninstaller provided by the developer of the software…

Tech News for You
Source: Antivirus Removal Tool
Windows Repair is a tool designed to help fix a vast majority of known Windows problems, including; registry errors, file permissions, issues with Internet Explorer, Windows Updates, Windows Firewall, and more. Malware and poorly installed programs can modify your default settings resulting in your machine working poorly. With Tweaking.com Windows Repair, you can restore Windows original settings fixing many of these problems outright.

Tweaking.com – Windows Repair Free/Pro
Put the Microsoft Outlook calendar right on your desktop so that it's visible and usable all the time without actually having to open Outlook.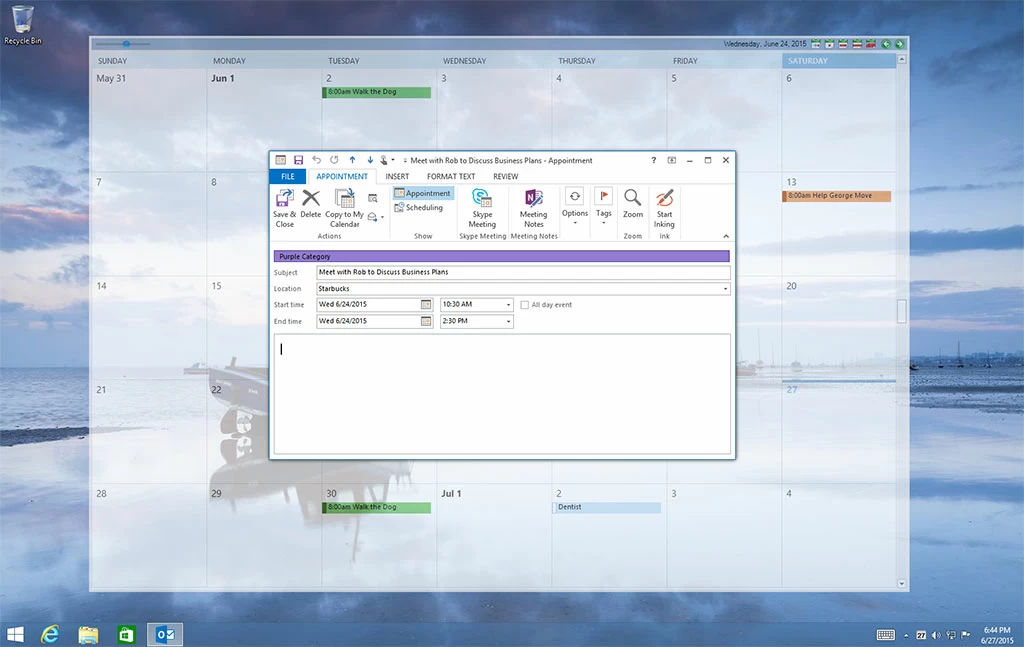 Source: Outlook on the Desktop