Featured Download
Geek Uninstaller 1.4.8.145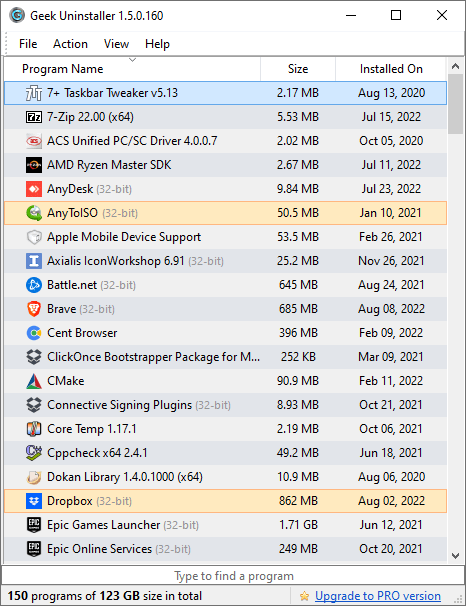 Clean Removal… Performs deep and fast scanning and removes all leftovers that keeps your PC Clean
---
Featuring daily software downloads from reputable and safe software review sites. A great majority of these software applications are windows based and many are FREE …
---
Today's Downloads
Textify lets users copy text from such normally static dialog boxes, system messages, program tabs and more. Ideal for quickly taking down diagnostic/error messages in system testing, the program lets you grab part or all of the needed text. It also can launch web services such as Google Translate or external programs. The program also […]

MediaInfo displays a variety of technical and metadata/tag information from audio/video files. It features many different available layouts to display the information, as well as the ability to create custom layouts. The program can be used to find missing codecs or get more information about a given media file.

PrivaZer scans and cleans your computers and storage devices, including external disks, USB flash drives, iPods, SD cards or network drives. It safeguards your privacy by removing unwanted traces of internet activities, software usage, USB history, registry and files. The program includes an available secure delete function that overwrites files to prevent recovery. WARNING: some […]
A free photo editor that comes loaded with tools for every essential editing need. 2021-09-18

A standard codec pack that includes several codecs to play all the popular audio and video formats. 2021-09-17

Free program to stream your live content on the Internet. 2021-09-17

Free software that allows you to use your Android phone as a wireless webcam. 2021-09-17

Free software for Windows to quickly and easily compress digital music. 2021-09-17
VSDC Free Video Editor is a video editing application that offers more than a standard set of tools. With VSDC Free Video Editor you can carefully edit video files using numerous visual and audio tools. It offers rich functionality wrapped aro…

FileZilla Client is a fast and reliable cross-platform FTP, FTPS and SFTP client with lots of useful features and an intuitive graphical user interface. Among others, the features of FileZilla include the following: Easy to use Supports FTP, FTP…

FileZilla Client is a fast and reliable cross-platform FTP, FTPS and SFTP client with lots of useful features and an intuitive graphical user interface. Among others, the features of FileZilla include the following: Easy to use Supports FTP, FTP…
OBS Studio is software designed for capturing, compositing, encoding, recording, and streaming video content, efficiently.

ProcDump is a command-line utility whose primary purpose is monitoring an application for CPU spikes and generating crash dumps during a spike that an administrator or developer can use to determine the cause of the spike. ProcDump also includes hung window monitoring (using the same definition of a window hang that Windows and Task Manager […]

USBDriveLog is a tool for Windows 10 that displays a log of all USB drives plugged to your computer. For every USB drive event, the following information is displayed: Device Model, Revision, Manufacturer, Serial Number, Plug Time, Unplug Time, Device ID, Device Capacity, and more… USBDriveLog allows you to retrieve the information from your local […]
QuickLook is an app that runs in the background and brings the MacOS "quick look" feature to Windows anytime you press the space bar. [License: Open Source | Requires: 11|10|8|7 | Size: 61.6 MB ]

Refined Github for Chrome is an Open Source extension that simplifies navigating and utilizing the Github repository. It intends to enable features that should be included in Github to make using it easier by adding many small, productivity-enhancing tweaks. [License: Open Source | Requires: 11|10|8|7|Linux|macOS | Size: Size Varies ]

Win10LockReplacement allows you to change your Windows 10 lock screen password quickly and easily. If you are looking for a simple option to lock up your unattended machine, them Win10LockReplacement will help you get the job done with minimal clicks. [License: Open Source | Requires: 10 | Size: 14.5 KB ]
StarUML is an open-source project to develop a fast, flexible, extensible, featureful, and freely-available UML/MDA platform running on a Win32 platform. UML is continuously expanding standards managed by OMG (Object Management Group). Recently, UML 2.0…

TC Games is an Android screen mirror program for Windows PC, through which you can Play Android games on your Computer! Perfect control with keyboard and mouse and faster than a simulator. Very easy to use, with just a few steps you can play your favorite…

The Start menu is back and it's better than ever. Get the most useful shell enhancement for Windows 10 now! StartIsBack is an amazing Start menu software shell for your Desktop! StartIsBack++ for Windows 10 can: Apply skins to the taskbar Replace…
Stream audio tracks from the Internet for free

Stream audio tracks from the Internet for free

Quickly tag your MP3 files that are lacking the correct information
Monkey#039;s Audio offers a fast and easy way to compress digital music without quality loss. The program is designed to be used with high quality WAV files, usually ripped from an Audio CD. ….

K-Lite Codec Pack (Full) includes 99% of all the audio and video codecs you will ever need. Just install this pack, and you will be able to play just about any media file out there…..

LicenseCrawler is a small, standalone program that scans the Windows registry (locally or remote) and returns a list of all entries that contain license keys, serials or registration numbers…..

PrivaZer is a privacy cleaner that scans your computer and provides you with a complete report of all computer and Internet traces that can be found on your PC. You can review the results in the deta….

Fotor is an easy to use photo enhancement software that offers 13 different one-click adjustments that have been configured for specific photo capture conditions like "Portrait", "Backlit", "Flash", ….