Featured Download
Ashampoo Windows 11 Compatibility Check 1.0.0.10
Ashampoo Windows 11 Compatibility Check is the fast and user-friendly Ashampoo Windows 11 compatibility checker for everyone. The program will be constantly updated to reflect the latest requirements so you'll always be on the safe side. >>> Download @ Ashampoo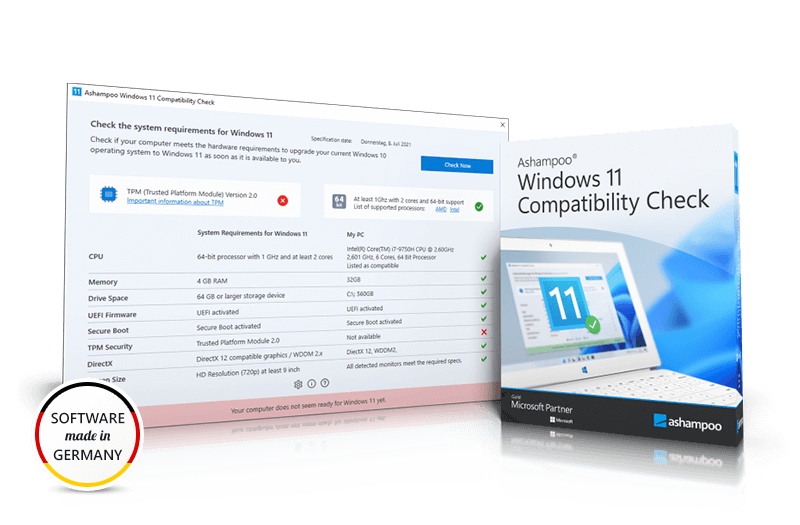 ---
Featuring daily software downloads from reputable and safe software review sites. A great majority of these software applications are windows based and many are FREE …
---
calibre is a feature-rich e-book library management application with a variety of useful functions including viewer, editor, online book and news search/download, device-specific e-book conversion, batch metadata tools, and content server for online access to your collection. The program syncs automatically with many different physical devices. It supports a variety of ebook and document formats. […]

Q-Dir is a quad-pane file explorer that supports favorites, file/color filtering, export to XLS/CSV/TXT/HTML, screen magnifier, quick preview etc. Alternately, Q-Dir Portable at PortableApps.com automatically switches between 32/64-bit and is approved by the publisher.

DesktopOK contains a host of beneficial Windows interface tweaks. The program can save the current icon view by resolution and make it easy to swap between views, showing all saved view formats in a list. Other tools include basic screenshots, the ability to force-close programs, color tool, volume and more: Interface tools include reducing clutter […]
An entertaining, open source, realistic free flight simulator game. 2021-07-30

Free software to view and keep track of all tasks throughout the duration of your projects. 2021-07-30

Run your Android apps and games fast and full screen on Windows PCs and tablets. 2021-07-29

Easily create object animations, special effects, and video transitions with this free animation software. 2021-07-29

Advanced free audio and video player that supports hardware acceleration, 3D, subtitles, more. 2021-07-29
VSDC Free Video Editor is a video editing application that offers more than a standard set of tools. With VSDC Free Video Editor you can carefully edit video files using numerous visual and audio tools. It offers rich functionality wrapped aro…

FileZilla Client is a fast and reliable cross-platform FTP, FTPS and SFTP client with lots of useful features and an intuitive graphical user interface. Among others, the features of FileZilla include the following: Easy to use Supports FTP, FTP…

FileZilla Client is a fast and reliable cross-platform FTP, FTPS and SFTP client with lots of useful features and an intuitive graphical user interface. Among others, the features of FileZilla include the following: Easy to use Supports FTP, FTP…
AllMyNotes Organizer is a multi-functional hierarchical information manager for Windows. Store all your Notes in virtual folders in one file. Everyone is unique so AllMyNotes Organizer offers freedom of individualizing your notes in totally customizable tree structure. All Notes stored in a single AllMyNotes Organizer file and can be grouped into flexible virtual folders enabling […]

AllMyNotes Organizer is a multi-functional hierarchical information manager for Windows. Store all your Notes in virtual folders in one file. Everyone is unique so AllMyNotes Organizer offers freedom of individualizing your notes in totally customizable tree structure. All Notes stored in a single AllMyNotes Organizer file and can be grouped into flexible virtual folders enabling […]

Active@ UNDELETE provides one of the best solutions for those who need to undelete files and not have to worry so much about not being successful in doing so. The latest version provides a completely overhauled data recovery engine and a vastly improved user interface. The wizard-driven interface is particularly user-friendly making it perfectly suitable […]
Absolute is a 64-bit Linux distribution based upon Slackware. It concentrates on desktop use to be ready for internet, multimedia, document, and general home use out of the box. [License: Open Source | Requires: 11|10|8|7|Linux | Size: 2.3 GB ]

Textify is designed to allow you to copy text from a dialogue box. Simply point your mouse over the text, click the mouse shortcut (Shift + Middle click by default), and get a selectable view of the text – easy as that. [License: Freeware | Requires: 11|10 | Size: 524 KB ]

DuckDuckGo Privacy Essentials for Chrome is the search engine that gives you great results and doesn't track you. It features smarter answers and less clutter. This extension makes DuckDuckGo available in the address bar, search bar, and the right-click menu. Also, adds a handy toolbar button with more features! [License: Freeware | Requires: 11|10|8|7|Android|macOS | […]
Anki is an education and reference application built from the ground up to provided help to students or anyone else who wishes to strengthen their long-term retention of facts. The core tactics that this app relies on are cards and decks – a set…

BuzzBundle is the best way to promote your brand, drive traffic, and power up your SEO campaign with social media. Make Social Media Work for Your business! Discover what people are saying about your brand, your products, your market, or your competition…

Wise Disk Cleaner Portable cleans temporary files, history, cookies, and autocomplete form history of Internet Explorer, Chrome, Firefox, and Safari browsers. And it removes PC junk files, such as Recycle Bin, Recent Documents, Temporary files, and Log…
An easy way to visually highlight the differences between text files

An easy way to visually highlight the differences between text files

Grab, edit and share your screen captures in seconds
Memtest86 is a standalone memory diagnostic tool that runs from a CD on system boot. It executes a series of numbered test sections to check for errors. These test sections consist of a combination o….

Bulk Image Downloader can automatically download and save the linked images from thumbnailed photo galleries. The program can be integrated with your browser`s right-click menu….

Password Manager XP allows you to create one or more secure databases for storing your sensitive information like logins and passwords. Each database is encrypted with various algorithms at the same….

RoboForm is a secure password manager that can automatically log you into your web accounts with a single click. The program can automatically learn from a new login, just click the a button to save ….

Drive SnapShot is a disk imaging tool that enables you to created complete backups of your system, selected hard drives or partitions. The program is small, requires no installation, and can even bac….