February 18, 2021
AdwCleaner is a tool that searches for and deletes Adware, Toolbars, PUP (Potentially Unwanted Programs), Hijackers, and more. It works with a Search and a Deletion Mode.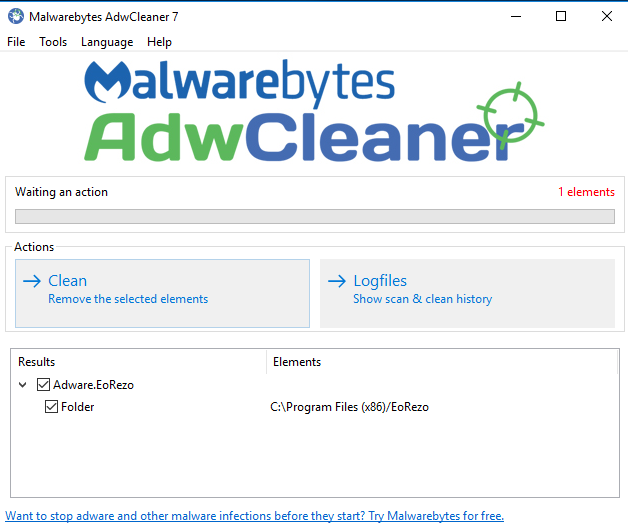 MORE DOWNLOADS
DirPrintOK is a fast, portable option for printing the content of a specific directory. It makes the process of printing the content of a directory simple. Select your target, filter the file details like including/excluding MP3 ID3 tag and hit print. It has a print preview with variable aspect ratio and is capable of exporting to XLS/HTML/CSV/TXT….
Give CCleaner the information it needs to clean up after even more applications
[UPDATE] EssentialPIM Free v9.7
EssentialPIM includes a calendar scheduler, todo list, contact manager, basic e-mail client, and tree-like multi-level notes tool that supports rich text, formatting and images. While many advanced functions such as synchronization and encryption are exclusive in the Pro version, the program is capable of manually importing from variety of formats…
[UPDATE] Database .NET v31.8.7716
Database .NET is a powerful and intuitive multiple database management tool. The program allows the administration of local or remote databases to browse objects, design tables, edit rows, export data, create new databases and run queries with a consistent interface. The program includes table/data editor, index editor, syntax highlighting, SQL profiler,…
WinKey is designed to quickly display your Operating System Type, Product ID, and Key Number. The data is pulled and displayed from a simple interface that allows easy copy and pasting of the details. A useful tool when you need to produce and enter a product key. [License: Freeware | Requires: 10|8|7 | Size: 90.4 KB ]
PhotoResizerOK permits fast and efficient photo size reduction. PhotoResizerOK is a straightforward utility to resize images and is displayed from a job-oriented interface. It will be comfortable in the hands of even novice users looking to save some space on their hard drives [License: Freeware | Requires: 10|8|7 | Size: 190 KB ]
Waterfox is a 64-Bit version of Firefox. The Firefox source code is taken and compiled to run specifically for 64-Bit Windows computers. To make Waterfox stand out a bit more, it's compiled with optimizations so that it will run more efficiently and faster than just compiling Firefox as a 64-Bit program.
---
BEST SELLERS
Computers and Accessories
Software
Electronics
Desktops
Laptops
Tablets
Servers
Routers
Data Storage
Networking Products
Printers
Scanners
Monitors
Computer Components
Laptop Accessories
Tablet Accessories
Computer Accessories
External Components
Cell Phones and Accessories
Contract Cell Phones
No-Contract Cell Phones
Unlocked Cell Phones
Appstore for Android