In brief, I have been torn between three web browsers: Google Chrome, Microsoft Edge, and Vivaldi… All are "chromium based" web browsers. I was pretty much locked in with Microsoft Edge, but may be changing my mind upon the release of Vivaldi 3.0.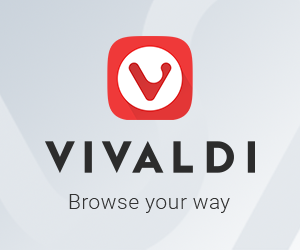 I am not going to get into specific details, but what has me thinking about Vivaldi now is that I immediately noticed the lag I had been experiencing in the previous version seems to be gone and many of the streaming video apps I run seem to now run better. It may just be me, but things in this browser, just look and run better.
Vivaldi is one of those browsers that for someone like me, allows me to customize the browser to my taste, with its' numerous common sense features that are not available in other web browsers. Vivaldi is one of those browsers that I predict will be talked about for years to come. I am also seeing that the Android version of Vivaldi has come out of beta and is also available at the Google Play Store.
I suggest you give Vivaldi a try. Main features of Vivaldi are:
Block trackers with built-in Tracker blocker – Vivaldi blocks sites from tracking you around the web so that you can browse privately and securely.
Block unwanted ads with built-in Ad blocker – Fine tune your experience by adjusting content blocker settings per site.
Take notes while you browse – Write down ideas in the browser's sidebar using Notes. Format text with Markdown, automatically attach screenshots, and more.
Add any site to your sidebar – Get quick access to your favorite chat apps, social feeds and news sites using Web Panels. Add as many as you like and rearrange with drag 'n' drop.
Manage tabs with ease – Vivaldi gives you full control of how you group, display and interact with browser tabs.
Keep your hands on the keyboard – Customize keyboard shortcuts to control nearly every aspect of your browsing and browse fast. Use Vivaldi's universal search – Quick Commands – to find open tabs, Bookmarks, History, and more.
Capture screenshots – Take screenshots of full web pages or a selection of the screen with Vivaldi browser's built-in Capture tool. Share or save what's on your screen with ease.
Go dark with Vivaldi browser – Take advantage of a predefined dark theme or create a new one from scratch. Vivaldi browser can even follow the theme of your OS to automatically switch between light and dark modes.
Source: Vivaldi