Here at What's On My PC my passion has always been software and apps. I especially love participating in open source software that is in development. Recently I installed on my Windows PC a note taking and to do application called Joplin. Joplin is an open source (FREE) program that will run on Windows (full install or portable app), macOS, Linux, Android and Apple. I have tried the whole gamut of note taking applications and what I am liking about Joplin is that you do not sync your notes to an online note taking service that has control of your data; instead you can sync your notes to either to your Dropbox account, Microsoft OneDrive account, NextCloud self-hosting private cloud, WebDav compatible file services, or to your local drive. There is also a browser extension available for Chromium based browsers and Firefox. When syncing, data transfers are encrypted (End To End Encryption); therefore, no data can be read while in transit. The only catch with the encryption feature is that you manually have to activate it from the device or computer that serves as your main computer and allow the device to perform a complete synchronization.
If you give Joplin a try, keep in mind there is a slight learning curve to get it setup, but once you do, I don't think you will regret it. I truly like the idea that I have control of my data with this application and that it is techie in nature.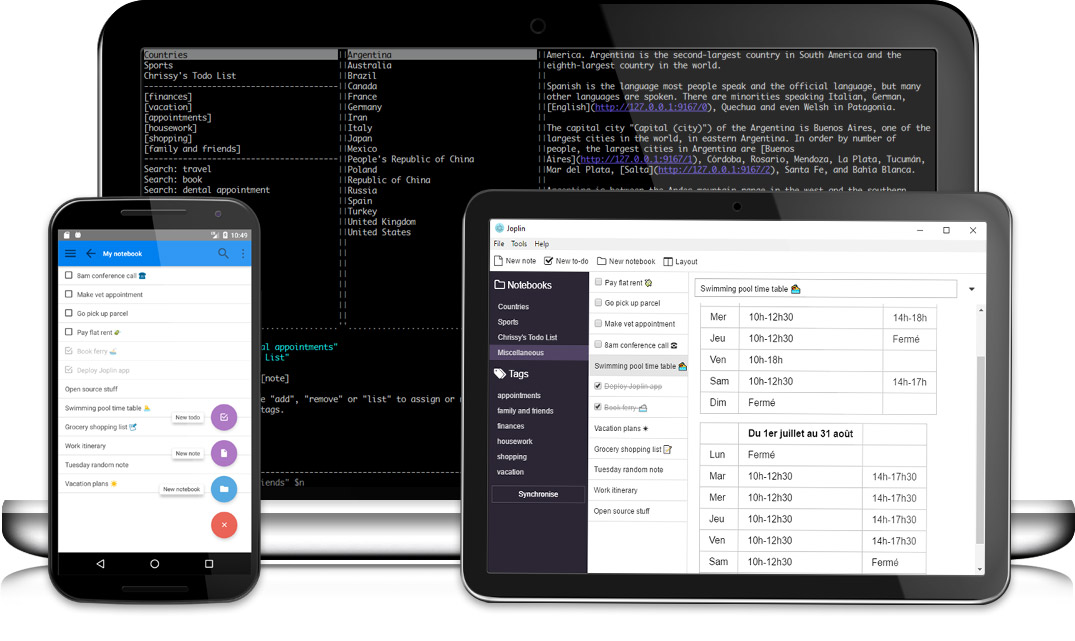 My setup of Joplin is as follows:
On my Windows computer(s) I installed the portable version along with the Chromium based browser extension. On my smartphone and Chromebook, I installed the Android version. On each device I had to configure the synchronization to OneDrive.
Below is the feature list of Joplin:
Desktop, mobile and terminal applications.

Web Clipper

 for Firefox and Chrome.
End To End Encryption (E2EE)
Note history (revisions)
Synchronization with various services, including Nextcloud, Dropbox, WebDAV and OneDrive.
Import Enex files (Evernote export format) and Markdown files.
Export JEX files (Joplin Export format) and raw files.
Support notes, to-dos, tags and notebooks.
Goto Anything feature.
Sort notes by multiple criteria – title, updated time, etc.
Support for alarms (notifications) in mobile and desktop applications.
Offline first, so the entire data is always available on the device even without an internet connection.
Markdown notes, which are rendered with images and formatting in the desktop and mobile applications. Support for extra features such as math notation and checkboxes.
File attachment support – images are displayed, and other files are linked and can be opened in the relevant application.
Search functionality.
Geo-location support.
Supports multiple languages
External editor support – open notes in your favorite external editor with one click in Joplin.
Keep in mind, Joplin is in development, but is turning into a very nice note taking application. I will take Joplin for a spin and see where I land with it.
Source: Joplin
---
Thank You for visiting
"What's On My PC"