Today's Thoughts From Rick – "Using Google Tasks":
All of us have busy lives and keeping it all organized is a task. One of the ways that I manage the components in my life is with Google Tasks. Folks that have used Google Tasks in the past may remember it as a minuscule application that was not really up to speed in comparison to other similar apps. Now that Google has made improvements to this application, it has become my main "to do" application. Google Tasks ties in nicely with Gmail where you will see it on the panel to the right. There is now a dedicated "Google Tasks" app in the Google Play Store. Google has not provided a "standalone" version of Google Tasks that can be opened up in your browser, that I know of, but there are a couple workarounds. The first workaround that has worked for me was using the following web address:
https://tasks.google.com/embed/list/
The second workaround is the new "third party" Chrome browser extension called "Full Screen for Google Tasks" that works quite nicely. All-In-All Google Tasks has matured and maybe something that you may want to take a look at to get organization your life.
---
Today's Tech News Briefs:
Plex has followed through on a September announcement that it would offer a free streaming service by the end of 2019; Are we headed towards a climate crisis tipping point?; AND, Microsoft announced this week that it won't offer Notepad through the Microsoft Store anymore.
---
Today's Software Pick:
Notepad++ – A free (as in "free speech" and also as in "free beer") source code editor and Notepad replacement that supports several languages. Running in the MS Windows environment, its use is governed by GPL License.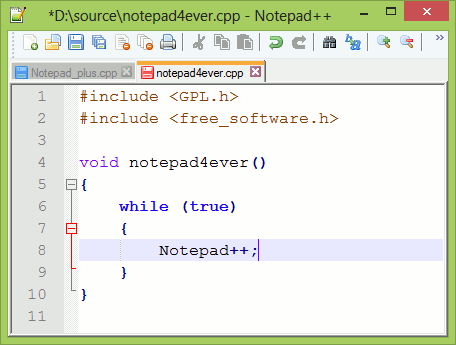 ---
Today's Android Pick:
Google Tasks – Get more done with the Google Tasks mobile app. Manage, capture, and edit your tasks from anywhere, at anytime, with to-dos that sync across all your devices. Integrations with Gmail and Google Calendar help you get tasks done—faster.
---
Today's "How To" Pick:
Windows 10 Fresh Start vs Reset vs Refresh vs Clean install vs In-place Upgrade – Windows 10 Advanced Recovery option offers recovery solutions that can help you bring back Windows 10 to a working condition. These are extreme solutions when nothing else can be done. That said, before one uses one of these solutions, its a good idea to understand the differences between them. Windows 10 offers Fresh Start, Refresh, and Reset options. Towards the end we also mention the difference between a Clean install and In-place upgrade… Continue Reading @ The Windows Club
---
Today's Amazon Deal (don't know how long this deal will last):
Amazon has the TaoTronics SoundSurge 60 Over-Ear Bluetooth 5.0 Headphones at $59.99 minus a $15 coupon and then apply this code DGYOHE7X and get and additional $5 off.
---
Thank you for visiting
'What's On My PC'