December 2, 2019
---
Today's Thoughts From Rick – "TuneIn" Your Christmas Music
To help me get into the Christmas spirit, I go to "TuneIn" to get my music; especially, when working from my computer or taking a drive in my car. To get you started using TuneIn, I recommend that you establish an account. After you do that you can save the stations or podcasts that you like under favorites. You can also find many of your local radio stations as well.
TuneIn In is an American audio streaming service delivering live news, radio, sports, music, and podcasts to over 60 million monthly active users.  As of 2019, TuneIn has more than 75 million monthly active users.
Today's Tech News Briefs:
A team of international scientists spotted a stellar black hole three-and-a-half times greater than anyone thought possible; The US is reportedly considering new measures that would further restrict Huawei's ability to procure US technologies; AND, Facebook is releasing a new tool today that will allow its users to transfer photos directly to Google Photos. The tool is being released initially in Ireland, and will be available worldwide in the first half of 2020.
---
Today's Software Pick:
Microsoft Windows and Office ISO Download Tool – This recently updated tool allows an easy and comfortable way to download genuine Windows 7, Windows 8.1 and Windows 10 disk images (ISO) directly from Microsoft's servers, as well as Office 2010, Office 2013, Office 2016, Office 2019, Expression Studio and Office for Mac.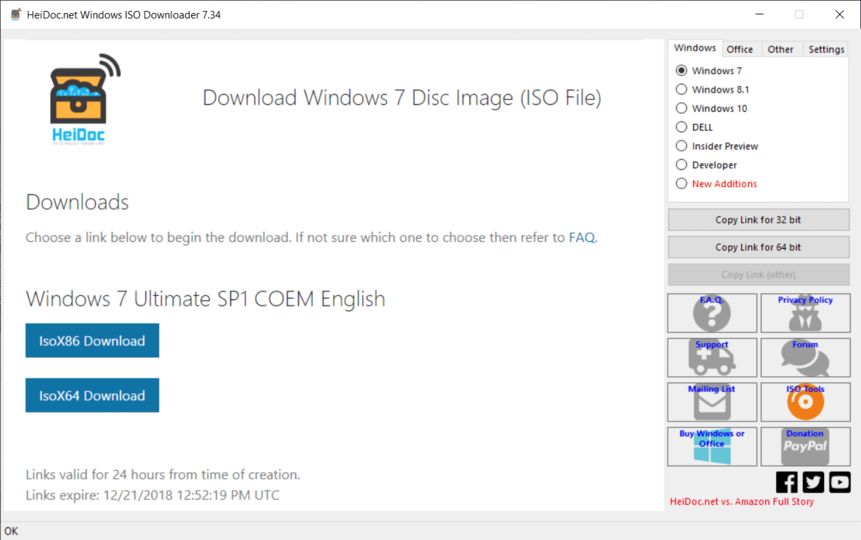 ---
Today's Android Pick:
Compass Galaxy – This is a FREE functional and simple compass application without unnecessary permissions.
---
Today's "How To" Pick:
How to run older programs in Windows 10 using compatibility settings – The "Program Compatibility Troubleshooter" wizard is a built-in tool that helps you apply compatibility settings to older software that doesn't work as it should on your Windows 10 computer. One way to open it is by typing "run programs" in the taskbar's search field, and then clicking or tapping on "Run programs made for previous versions of Windows."… Continue Reading @ Digital Citizen
---
Today's Amazon Deal (don't know how long this deal will last):
This premium level Chromebook is $100 cheaper for Cyber Monday…
Asus Chromebook Flip C434 2 In 1 Laptop
---
Thank you for visiting
'What's On My PC'